REJECT REMOVE REPLACE out now

The long awaited debut album from Danish underground stoners STONE CADAVER!
Songs such as "Hands Of Death", "Sscum" and the instrumental "Ruins In The Sand" testify to a heightened focus on the interplay between tempo changes and groovy riffing, elements which have played a major role in the bands music from the onset.
The album comprises the bands most focused material to date and can best be described as a bubbling magic potion brewed from catchy, distorted up tempo riffs with a few pinches of doomy grooves.
"We have tried", explains singer and guitarist Anders B. Nielsen, "to create an album like in the old days. You know, one that you'll want to listen to from beginning to end. In this regard, you could call it a concept album, the concept being a unified, musical whole."
The album was recorded and produced by Torben Egebjerg (Magnified Eye) and Stone Cadaver, mixed by Stefan Krey (Gas Giant, Alkymist), co-engineered by Mikael Larsen (Slet Det) and mastered by James Plotkin (Electric Wizard).
Old school proto-metal guitar and gritty, distorted bass combine with fat, organic drums to concoct a hellish stoner gumbo that is bound to fill that empty hole in your stomach.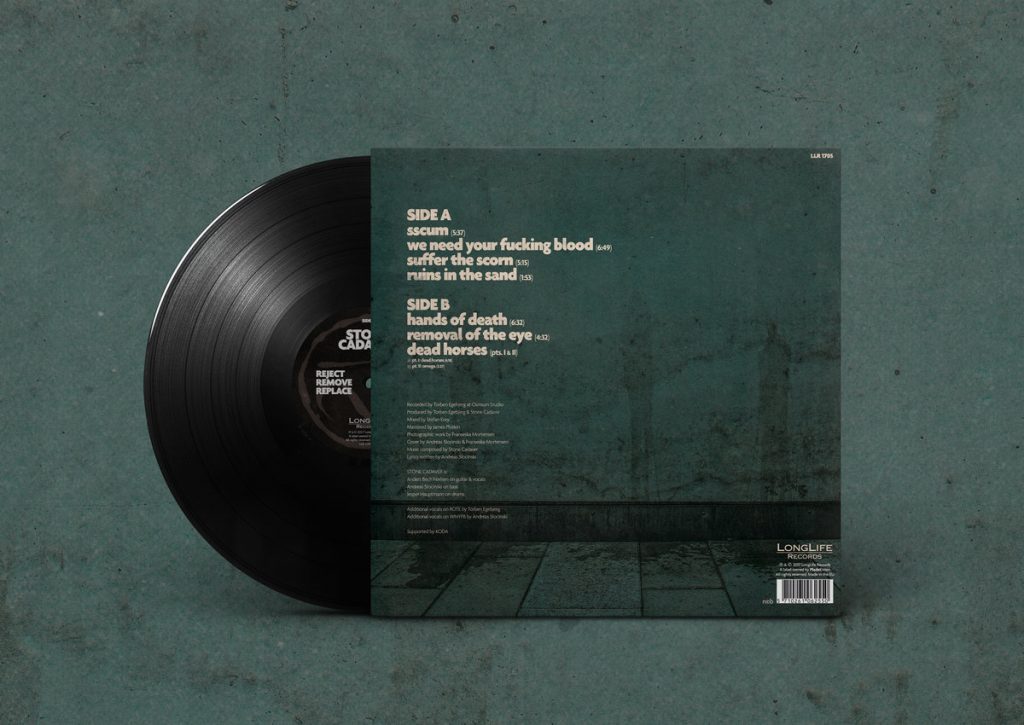 Picture three guys in denim vests fusing the likes of Pentagram, Deep Purple, Black Sabbath and Electric Wizard in their heavy riffing and you have pretty good idea of what Stone Cadaver is all about.
Sscum 05:37
We Need Your Fucking Blood 06:48
Suffer The Scorn 05:16
Ruins In The Sand 01:53
Hands Of Death 06:32
Removal Of The Eye0 4:32
Dead Horses (pts. I & II) 08:45
Includes unlimited streaming of Reject Remove Replace via the free Bandcamp app, plus high-quality download in MP3, FLAC and more.
1st pressing of Stone Cadaver's awesome full-length debut. We're talking old-school 140 gr. black vinyl, just like in the old days. Make sure to get your hands on it while stock lasts, because these babies are going fast!

Mastered specifically for vinyl by James Plotkin (Electric Wizard).
"I REALY LOVE THESE PASSIONATE GUYS. THE TRIO IS ACTUALLY ONE OF THE FEW BANDS IN THE GENRE THAT REALLY FASCINATES ME AT THE MOMENT."
80/100

– METAL-REVOLUTION.COM
"… UNDOUBTEDLY […] ONE OF MY FAVORITE PIECES OF LOCAL VINYL RELEASED THIS YEAR."
5/6*

– SOUND OF AARHUS
"I CAN'T RECOMMEND THIS HIGHLY ENOUGH … STONER JUST DOESN'T COME THIS GOOD."
9/10

– POWERPLAY MAGAZINE
---